Cary Fagan
Writers in Residence Archives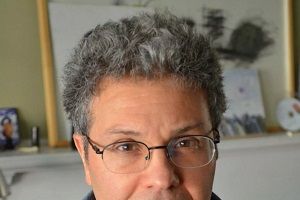 September 2020
Cary Fagan was born in 1957 and grew up in the Toronto suburbs. His books include the The Student (finalist for the Governor General's Award for Fiction and the Toronto Book Award), A Bird's Eye (finalist for the Rogers Trust Fiction Prize, an Amazon.ca Best Book of the Year), the story collection My Life Among the Apes (longlisted for the Giller Prize), and the novel The Animals' Waltz (winner of the Canadian Jewish Book Award). His short stories have been published in Geist, CNQ, The New Quarterly, and Best Canadian Stories.
As a writer for children, Cary has published both picture books and novels. He is the recipient of the Vicky Metcalf Award for Young People for his body of work. He has also won the Marilyn Baillie Picture Book Award, the IODE Jean Throop Award, a Mr. Christie Silver Medal, and the Joan Betty Stuchner—Oy Vey!—Funniest Children's Book Award. He has visited schools and libraries across the country.
Cary's work has been translated into French, Italian, German, Dutch, Spanish, Catalan, Turkish, Russian, Polish, Chinese, Korean and Persian.
Cary lives in the west end of Toronto. He teaches courses in writing for children at the University of Toronto Continuing Studies.
Our Interview with Cary