Columnists
This Was the Countryside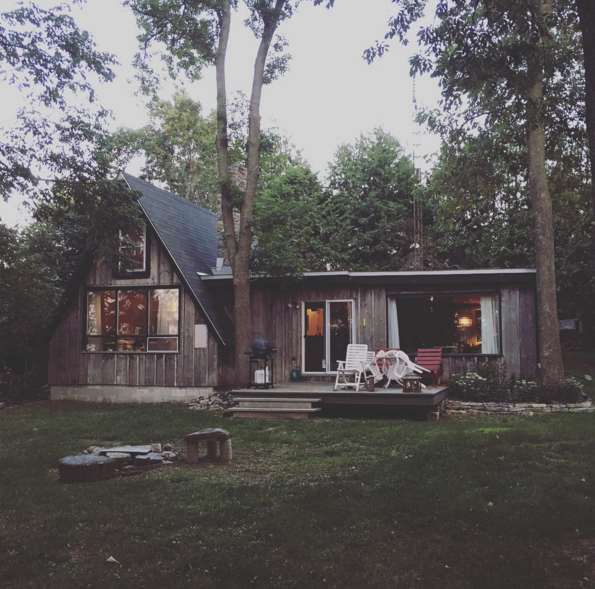 In Buttermere, the land hugs the lakes. Some of the lakes contain islands. Some of these islands are so small, they lack roots. They bounce from point to point, as slowly as fingernails grow. To make proper note of their progress, you'd have to see them as a child, and then come back and see them again when you're old.
My companion and I were there to hike. I wore Wellingtons, slacks, t-shirts, and this super-loose wool sweater with penguins and polar bears sewn along the bottom in white string. When the two of us arrived at our bed and breakfast, the manager kindly asked us to wait in the lobby for a moment; an error had been made with our booking. Our clothes dripped rain water onto the floor. The wool and the water gave me a wet dog smell.
She showed us our room, covered in one-ounce toiletry bottles and doilies and miniatures. There were more pillows than two men would ever need, spread evenly across the heads of two twin beds. When the manager saw that we were both men, she made an assumption. It was my companion who informed her that there had, in fact, been no error with the booking. We were hoping for one bed, he said, just as we had indicated online.
She was embarrassed and friendly about it, bringing us to a couple's room right away with apologies. She lent me a cane, with which to better navigate the long path up Red Pike the next day. That was the winter I learned what a cairn was. My companion and I sat beside the one that marked the summit of Red Pike, and it was like there were three of us. Then we left the cairn behind, descending the fell, our notebooks full of poems, our bellies full of wine, and our wine bottle full of our cigarette butts.
Our last day in Buttermere was as rainy as our first, so the manager drove us to the train station. She was a little psychic, she told us. Through the rear view mirror, she told me to keep writing. She had no reason to know that I wrote at all. She told me, specifically, never to forget that I was a poet. This was something she understood about me. It wasn't my outfit or my bone structure that clarified this activity, but rather some aura, all palpable and evident. I had just turned twenty. This moment meant a lot to me, for a long time.
She also told the both of us to enjoy our travels. Later in life, she said, when we settled down and found wives, all of these memories would just be faint traces. Then my companion and I went into the station and parsed the wife comment. We concluded that the thing to do was to laugh it off. This was the countryside; people thought differently.
Later in life, it did become faint traces. I was making beds in a hostel for a summer. Beside one bed I found a notebook, left open. I thought about how easy it would be to give the book a glance, out of curiosity. It hit me that the woman in Buttermere had done this with my own notebook. That was the only real explanation. If you want to be a psychic, all you need to do is look through people's things. I sat on a bed that I made every day but was always someone else's to sleep in. There was no aura. I didn't look like a poet. I looked like a child.
*
In Prince Edward County, the lake hugs the land. Parts of the land contain lakes. Some of these lakes are so small, they grow and shrink in accordance to the rainfall. I often stood at the edge of one such lake, which touched the backyard of the house I was in. A neighbour told me the lake was much fuller the previous year. The same rocks were there, near the lip, but submerged. Now it was the end of a too-dry summer, and the rocks were plain to see.
I was there to complete a residency at the Al Purdy A-Frame. There were stipends and readings and literary pilgrims. There were fires to keep alive. There were wasps in the walls to organize the slaughter of. There were plenty of blankets. I wore flannels, aviators, baseball caps, good boots. I grew a beard for the first time. It felt best to keep my bedhead haggard. I was going for a certain look: serious, heterosexual, writerly. I was not certain why, at first. Was it an attempt to fool the nearby folks of the county? This was the countryside; people thought differently. But if this was my motivation for looking straight, then why did I not hesitate to mention, when asked, the queerness of my writing, nor to introduce my partner as my partner during his visits? For whom was I dressing?
Your CanLit News
Subscribe to Open Book's newsletter to get local book events, literary content, writing tips, and more in your inbox
The ghost, I realized, eventually. The previous owner of most of the things I sat in, looked at, or drank out of. It was difficult to sit in such a way that I wasn't facing him. Even lying down didn't work; he had built the roof above my head. I was at the A-Frame to wonder things. One thing I wondered was, what would Al make of my partner's odd weekend visits? Of how there were two men, but just the one bed? This ghost would not mistake me for a heterosexual. Would he, in the least, find me serious, find me writerly? There are people who conflate these three notions. They are often men, often old, often haggard, often ghosts. Was Al amongst them? I posed this question to the ghost. Being mouthless, he didn't answer. I kept a closed notebook on the bedside table. I wondered if I had always made any concerted effort to keep my notebooks closed.
In my first month, the same neighbour who told me about the lake's water level told me that Al hadn't built that roof after all. It was his wife Eurithe who did much of the heavy lifting, according to certain lore. One afternoon, Eurithe brought over furniture for the writer's den, carrying heavy chairs and desk drawers with strength that I thought was scientifically impossible for a person in her nineties to exhibit. She also brought artworks for the walls, including a dream-like painting of family friend Margaret Atwood.
The only novel I read there was The Handmaid's Tale. In that dystopia, homosexuality is called "gender treachery." The guilty men are hung in pairs; the guilty women are repurposed as vessels for babies. Atwood used to drive to the A-frame, way back when, for the parties that took place there. At least once, Al and other poets went outside and peed on her car. Then they teased her about it. Perhaps the men around her took her seriously; perhaps they found her writerly. No matter – really, truly, none. Now she's won most of the things a writer can win, authoring so many books that she thinks little of burying one. My partner has a poster of 100 classic novels you're supposed to read before you die. The Handmaid's Tale is the only Canadian book on the list.
One night during my residency, I knocked the Atwood painting off its nail. I caught the picture mid-air and immediately determined that Margaret was the ghost for me. Hers was the gaze I would muster a sense of, on the back of my head, or on my laptop screen as I wrote. She was alive but she had still left a ghost in that space. I would leave one too, however small, however seriously taken.
It became November. It got colder, outside and inside. There is a big overlap in content between clothing people consider straight-looking and clothing that is practical in the autumn, in the winter, in the countryside. My flannels kept me cozy. When there was sun, my baseball cap kept it out of my eyes. Leather boots lasted me through numerous hikes. My mind wandered to other wonders pretty anti-climactically. Like an odd smell, the ghosts disappeared into me and my ordinary. The costumes became clothes. I wrote poetry with the "me" and the "you" both male and all over each other, as ever. My beard itched so I shaved it off and slept better that way. In the other room, my bathrobe fell off the hook. I hung it right back up. I was alive and warm.
The views expressed by Open Book columnists are those held by the authors and do not necessarily reflect the views of Open Book.
Ben Ladouceur is a writer living in Ottawa. His first collection of poems, Otter (Coach House Books), was selected as a best book of 2015 by the National Post, nominated for a 2016 Lambda Literary Award, and awarded the 2016 Gerald Lampert Memorial Award for best debut poetry collection in Canada. Ben is the prose editor for Arc Poetry Magazine.